Best Healthcare Software Development Company
overview
Healthcare Industry Solutions & Services
With undergoing changes in the healthcare industry across the world, the prime focus is on improving the quality of care delivered. A successful healthcare organization of today relies on the medical information system, focused business intelligence for evolving strategic initiatives, as well as an agile IT infrastructure that can adapt to changing customer needs while providing affordable healthcare for all patients. And for helping corporations stand out in the competition and achieve customer-oriented services and care.
Our expert team of IT Software developers can assist you in rendering high-quality and better service while controlling costs. We can empower your healthcare organization to create more effective and efficient business strategies. As a partner for digital health, we provide support at every stage. We help create patient-oriented digital healthcare software leveraging the latest technologies that enable real-time monitoring of medical information. As a result, you can make life-critical decisions on time, improve patient care, and provide more personalized care.  
Delivery
Healthcare Software Development - Value-based Care
Custom EMR/EHR
Solution

Comprehensive doctor and patient portal
Lab, clinic & hospital management
Billing Systems and E-prescriptions
Visualization & detailed reporting
Integration of HIPAA and such regulatory compliance

Pharmaceutical Supply Chain Management Software

Medicine recall notifications 
Online Payments
Collaboration with hospital & clinics system
Pharmacy database & location tracking
Prescription upload & real-time duplication detection

Healthcare Survey & Assessment Solution

Email & Text integration
Customized question bank
Real-time data collection and reporting
Cross-platform app
Text Message & Email integration
Admin portal for managing responses

Homecare Services Platform

Carer authentication / KYC 
Chatbot integration
Carer shift management
Payment gateway integrations
Patient-carer contract builder

Innovative Telemedicine Solutions

Prescription Management
Doctor & Patient record management
Interactive care management
Vitals data management
External healthcare systems integration

Remote patient Monitoring Solutions

Collecting real-time medical data
Conversational virtual assistant
AI-enabled IoT devices
Customized notifications
EMR/EHR Integration
What makes Alea unique?
Reimagine your healthcare business with Alea
Innovative Medical Practice Technologies

Our dedicated specialists have the strong technical acumen to assist hospitals, healthcare research centers, and pharmaceuticals save lives and foster health.

IT Consulting for Healthcare

With our experienced team of experts, we work with you to develop clinical and healthcare software solutions that help hospitals, clients, patients and EHR.


Customized Patient Experience

Healthcare organizations can create easy-to-navigate patient portals through our digital transformation solutions that promote the interactive patient experience.


Robust Information Security

We encrypt your data against digital threats and virus attacks, ensuring a higher level of security with globally certified and proven safety protocols.

Innovation
Channelizing Healthcare and Pharmaceuticals challenges into great Opportunities
Managing Big
Data

Treating every patient on a mobile desktop, suggesting the right diet, exercises, medication, and other huge information is stored, managed and processed by IT tools and technologies across multiple devices. Collecting such high volumes of data at speed while maintaining privacy is quite challenging.

Patients want innovation

Patients expect core features from their healthcare system are surprisingly normal. To gratify audiences of all ages is a challenge as patients in this industry are more interested in efficient value-based care and and integration with channels that are just appealing interfaces.

Online Reputation Management

 

Traditional Measures of nursing and treating patients and care are lacking in today's digital health ecosystem. Technology investments and innovative programs are derived from patient experience. The majority of healthcare software does not have an effective method of capturing patient feedback.
Expertise
Transforming healthcare towards the future for better clinical decision making
We offer solutions that cater to all types of users within this industry and create software and apps to empower physicians, for driving millennials through the latest fitness and wearable bands, for patient engagement/management, for enhancing physician-patient communication, for overall hospital workflow management, and increase efficiency and revenue for medical businesses.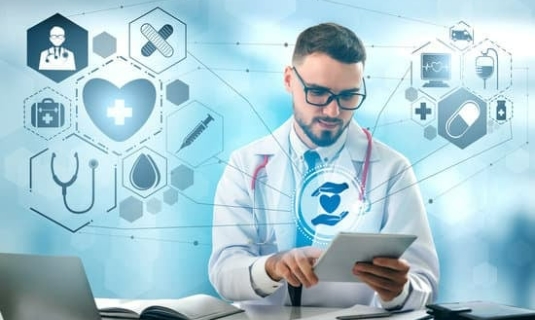 Customers stories
Ash and his team have been great to work with. They were on time and delivered a good product that not only works well but looks great. They were always responsive and easy to reach by email and Skype. I would highly recommend them!!- SHEILA SIEGEL