Real Estate Software Development
overview
Real Estate Software Development
In today's fast-paced world, characterized by vibrant technological evolution, we help brokers, property owners, real estate managers, and leasing companies with seamless workflow management. Enabling management of structured and unstructured data, we assist them in nurturing new business opportunities. Our Real Estate Software Developers are proficient in developing high-tech applications and delivering a superior customer experience through 3D tours, online property listings, and e-registrations. 
Our team develops real estate software and applications with RPA, ML, NLP & AR/VR capabilities. This assists tenants and buyers in having a realistic view on mobile, managing documents, interacting with virtual agents, and making informed decisions. AleaIT empowers you to stay ahead and stay compliant with regulations, have improved operations, and avert setbacks with robust Real Estate Software Development & Solutions.
Sectors
Experience the Top-Notch Real Estate Software Development Services
Property Management Software

Property listing management
Lease & Contract Management
Online Payments
Accounts and Document management
Owner-tenant/buyer-seller management

Real Estate ERP Solution 

Online leasing
Customer Portal
Separate customer portal
Agent and Booking Management
Integrated modules for various departments

Mobile CRM Platform 

Sales analytics
Data mining
Marketing automation
Dashboards and reports
Channel and lead management

Rental Property Marketplace Platform 

Property Listings
Map and location integration
Payment and Escrow integration
Inventory and booking management
Tenant-owner profile management

Real Estate Asset Management Solution 

IoT sensor monitoring
Role-based access security
Automated property valuation
Compliance and risk monitoring 
360-degree virtual surveillance

Comprehensive IDX & MLS Integration Solutions 

Open house details 
Mobile site integration
MLS integration into CRM
Visitors tracking tools
Demographics and area information
Benefits
Why Alea is the best choice for custom real estate software development
Expedient delivery

You can rely on us to deliver customized real estate solutions of varying complexity and scope across geographical locations.

Dedicated IT Specialists

Our talented domain champions assist you with creating a custom real estate app or modernizing an old legacy to achieve your objectives.

Domain Expertise

We offer to customize real-estate solutions to address the distinctive aspects of your business, processes and customer expectations.

New-gen Technologies

With the advanced tech stack, we know how to utilize Big Data, AI, Blockchain and analytics in software that can place you in a leading position.
Delivery
How we provide Solutions to Real Estate Mobile App Challenges
Knowledge Gap

Buyers with less knowledge in the online real estate market don't trust and assurance of getting the right property. We provide an appealing UX to attract them to your website or application.

New Technology Advancements

Customers want a realistic look at what they want to purchase. Preferences coupled with technological advances and Demographic shifts are affecting online real estate. 

More Informed Buyers

Customers want to be more informed and wish to pre-register while buying the property. We develop apps that deliver a quick selling experience with top-quality results.
Expertise
Dominate Your Local Market Optimized Real Estate Solutions
AleaIT Solutions, services, and flexible engagement models have proven to help render cost-effective benefits to our clients. It is the best time to grab the opportunity to maximize the reach of your online business in the real estate and property market. Connect with us to avail the best Real estate Mobile app and website development services providing a similar experience as magicbricks, Common Floor, and 99acres. Utilizing cutting-edge technologies, we will customize and optimize your campaigns to achieve the highest return on investment.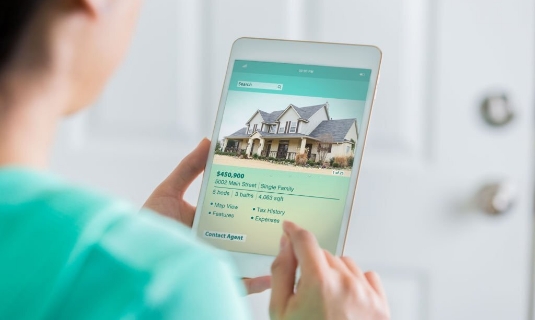 Customers stories
AleaIT is going to be an asset for future projects. They have been incredibly professional with their communication and, of course, expertise. Even surprised me by going the extra mile and saving me time reworking certain things that were not part of the job description. Very conscientious of customer service.A+ -PHUONG